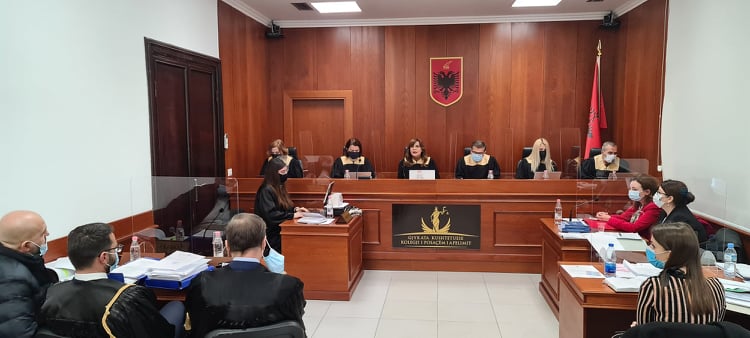 Today, on 14.12.2021, at 10:00, the Appeal Chamber held the public plenary hearing of case (JD) no. 3/2021, dated 30.04.2021, with appellant Mr. Bujar Memia, against decision no. 81, dated 31.03.2021 of the High Prosecutorial Council, "On imposing the disciplinary measure against prosecutor Bujar Memia", and interested parties, the High Inspectorate of Justice (HIJ) and the High Prosecutorial Council (HPC).
After verifying the presence of the parties, the appellant Bujar Memia, to the purpose of carrying out his defense before the Chamber, submitted two preliminary requests before the trial panel, through which he requested that information and evidence be administered, for which, he claimed that he had no response from the respective institutions.
Subsequently, the presiding judge requested the HPC representatives whether the appellant had been made available the entire file with the administered and created acts, in the context of the disciplinary proceedings against him. The HPC representatives submitted that it is the HIJ duty to acquaint the appellant with the acts. The High Inspector of Justice representative, in order to clarify the fact whether the appellant Bujar Memia was acquainted with the acts issued by HIJ, stated that the decision to initiate a disciplinary investigation, which was forwarded to the appellant, contained attached the statement of the rights, upon which he is provided the right of acquaintance with the acts.
The HPC representative, when questioned by the presiding judge on the reason the complete file of the case was not submitted with the Chamber, stated that it was assessed that this is the obligation of the appellant, whereas the HIJ representative requested the AC to administer the complete file of the case, if it serves this proceedings.
After withdrawing for consultation, the Appeal Chamber, based on Articles 1, paragraph 2 and 42 of Law no. 8577, dated 10.02.2000 "On the organization and functioning of the Constitutional Court of the Republic of Albania", as amended, decided to address the High Prosecutorial Council to submit within 29.12.2021 the file with all the acts administered and created in the context of the disciplinary proceeding, on the basis of which decision no. 81, dated 31.03.2021, of the High Prosecutorial Council has been made.
With regard to the appellant requests on the collection of evidence, the Chamber considered that they do not fall into the category of preliminary requests and should be submitted by the appellant and considered by the court during the examination on the merits of the case.
In order to accomplish the tasks ordered by the trial panel, the next hearing will take place on January 19, 2022, at 10:00.
The public plenary hearing will take place in the premises of the Appeal Chamber, at: Boulevard "Dëshmorët e Kombit", no. 3, Tirana.