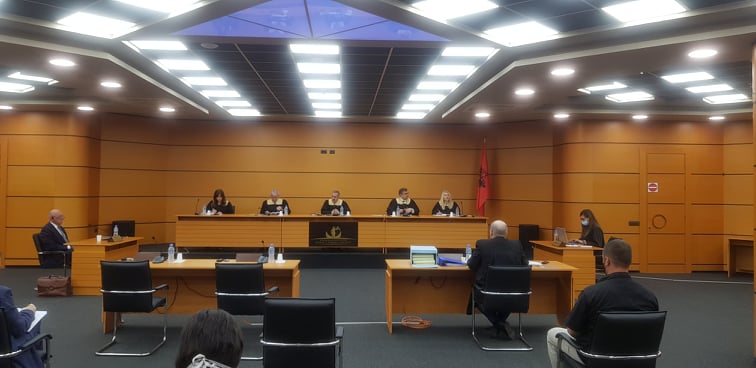 The Appeal Chamber held on 25.06.2020, at 10.00 h, the review in a public hearing of the case (JR) no. 51/2019, dated 17.10.2019 corresponding to the appeal of the Public Commissioner against decision no. 169, dated 26.06.2019 of the Independent Qualification Commission, related to the transitional re-evaluation process of the assessee Regleta Panajoti.
During the verification of the presence of the parties, the presiding judge found the assessee, Mrs. Regleta Panajoti was not present and informed that the other day, on 24.06.2020, the Appeal Chamber was notified via e-mail by the assessee, about her request addressed to the High Judicial Council for resignation from the office of the judge.
As well, through e-mail, the assessee, Mrs. Panajoti has requested the Appeal Chamber to adjourn the public hearing until the High Judicial Council has ruled on her resignation.
The Public Commissioner, after confirming that he was officially acquainted with the requests of the assessee, asked the adjudication panel to proceed with the adjudication, pursuant to Article 179/3 of the Code of Civil Procedure and the case-law of the Appeal Chamber. The Public Commissioner stated that the adjournment of the hearing, could only be done to verify the will of the assessee for resignation, according to Article G of the Annex to the Constitution.
Upon an interim decision, the adjudication panel decided to request from the High Judicial Council:
Information on the confirmation of the submission of the assessee's request for resignation from the status of magistrate.
Information on whether the request for resignation has been accompanied by a motivated request regarding the fast tracking of the resignation effects, within the meaning of Article 65, paragraph 3, of Law no. 96/2016, "On the status of judges and prosecutors in the Republic of Albania".
Also, the adjudication panel decided to invite the assessee to be heard in person by the Appeal Chamber in a public hearing regarding her willingness for the continuation of the re-evaluation process, provided that the Public Commissioner has requested the continuation of the adjudication.
Due to the above reasons, the hearing was adjourned to be held on 10.07.2020, at 10:00.
The public hearing shall be held at the premises of "Pallati i Koncerteve", Bulevardi "Dëshmorët e Kombit", Tirana.